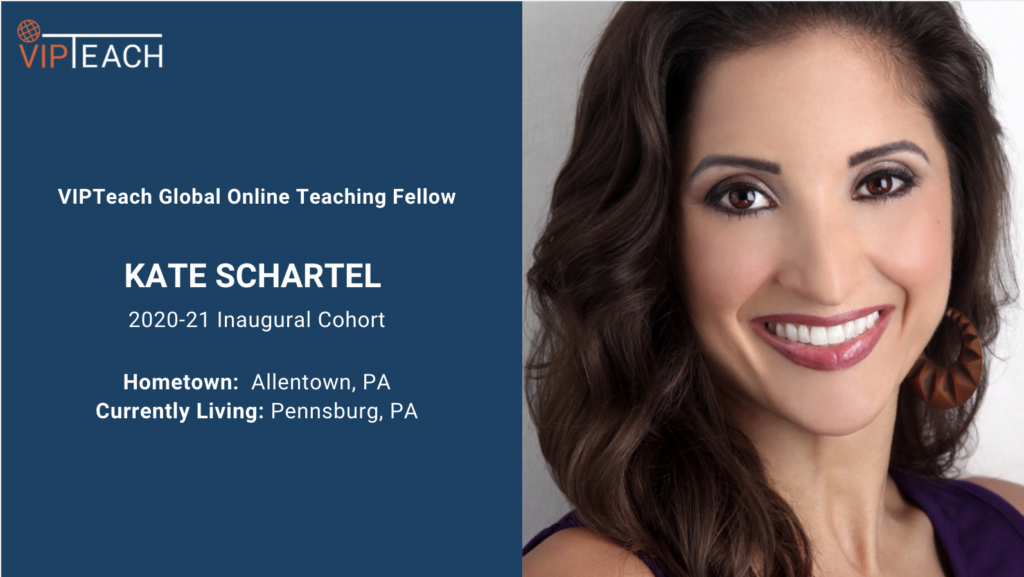 Kate combined her experience teaching in distance learning environments with ten years of public school classroom experience in both urban and suburban school districts to inform her experience as a VIPTeach fellow.
Outside of teaching, Kate is a fitness instructor, a home-based travel advisor, a cause entrepreneur with ONEHOPE Wine, and a fierce advocate for the causes that move her.
A fellow Fellow…
Tell us about your professional background.
I spent ten years teaching in the public school system, during which I spent two years educating students in blended summer school. I've taught with VIPKid for five years, and have been a part of VIPKid's Rural Education Project for four years. Outside of teaching, I spend my time as a Travel Advisor, Event Planner, ONEHOPE Wine Cause Entrepreneur, and Fitness Instructor.
Tell us about your educator experience.
My entire working life has centered around teaching and coaching. Even as a travel advisor, I am educating clients about destinations and their various options for vacationing and business travel. Between my junior and senior years of high school, I attended the Pennsylvania Governor's School for Teaching, a six-week residential scholarship program for aspiring educators. Sophomore through senior year, I coached youth cheerleaders. Now I am most obviously teaching online in 1:1 and one-to-many classrooms, but I am also educating the community about health and wellness as a fitness instructor at my local YMCA.
What are your hobbies?
I'm fortunate enough to have made my favorite things to do my work as well, including yoga, travel, giving back to charity, reading, and writing. I also enjoy cooking, music, and spending time with my family through it all.
In your opinion, what are some of the benefits of online learning?
It's convenient and comfortable for teachers and learners once accustomed to the routines of the online classroom. For some learners, it provides flexibility and accessibility that might not otherwise be available depending on the student's individual learning preferences and living circumstances.
How do you use technology in the classroom?
My M.Ed. program was called Technology-Based Teacher Education, and that was back in 2004/2005! Since my education in how to teach was rooted in technology integration, I've never known a classroom without it, and my use of it has varied depending on the venue, curriculum, and students.
What are ways you think distance learning could be more equitable for learners?
Access to the technology required and more consistent teacher and curriculum quality.
What has been your biggest takeaway from your VIPTeach Fellowship experience?
Throughout the fellowship, we have had an astoundingly diplomatic leader who I admire greatly. I've learned a lot about managing a large group of very diverse folks with even more diverse experiences from observing her in action.
What is the title of your Capstone Project?
Combatting Pandemic-induced Learning Loss through Online Learning
Who are you serving, and what do you hope to accomplish?
Under-resourced students in NY. These students' schools either lack support services for the shift to online learning, their families find private tutors financially inaccessible, or both. We hope to combat pandemic-induced learning loss through online tutoring. Kate, fellow Fellow and Project Lead Susan Landaira, and Fellow Tamara Thorvtrup gave back to select NY schools with need for support since the pandemic. They created a tutoring service and gave many students a boost in learning areas that plateaued during their time learning at home.
"A journey of a thousand miles begins with a single step." Lao Tzu
---
A three-time Mrs. Pennsylvania titleholder in the Mrs. America, Mrs. United States, and Mrs. International pageant systems, Kate has supported many platforms through her reigns, most recently Value PBS: A Trusted Window to the World. As a friend to PBS, she supports PBS's mission to educate, inspire, and inform.
In addition to advocating for PBS, Kate is now the reigning Mrs. New England and Ms. Royal America, volunteers as a Wish Granter for Make-A-Wish, served on the Young Alumni Council and is an Alumni Volunteer for Admission for Lehigh University, and is an eNews editor at her church. Kate graduated from Lehigh with a B.A. in English and M.Ed. in Secondary Education. Above all, she is a devoted wife to Ray and mother to four-year old Aria and three stepdaughters.
See more on how the Fellows' Capstone projects make it possible to help learners in our schools and beyond.