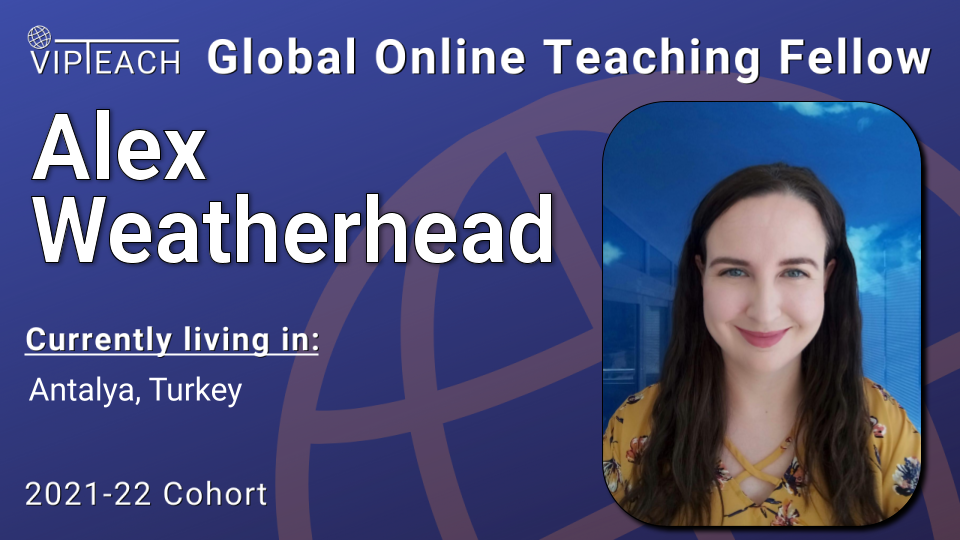 Alex Weatherhead holds a BA in International Development from the University of Guelph and an MA in International Education from the University of Leicester. The focus of her research has been on the role technology can play in delivering quality education to refugees and other learners in rural and remote areas. She has been teaching online since 2017 with some of the leading EdTech companies. She has also taught in classrooms in Korea, Thailand, and Iraq since 2014. Alex has a long history of volunteering with NGO's and International Organizations (IO's) and she currently volunteers her time teaching refugee students. Alex is currently based in Turkey.
---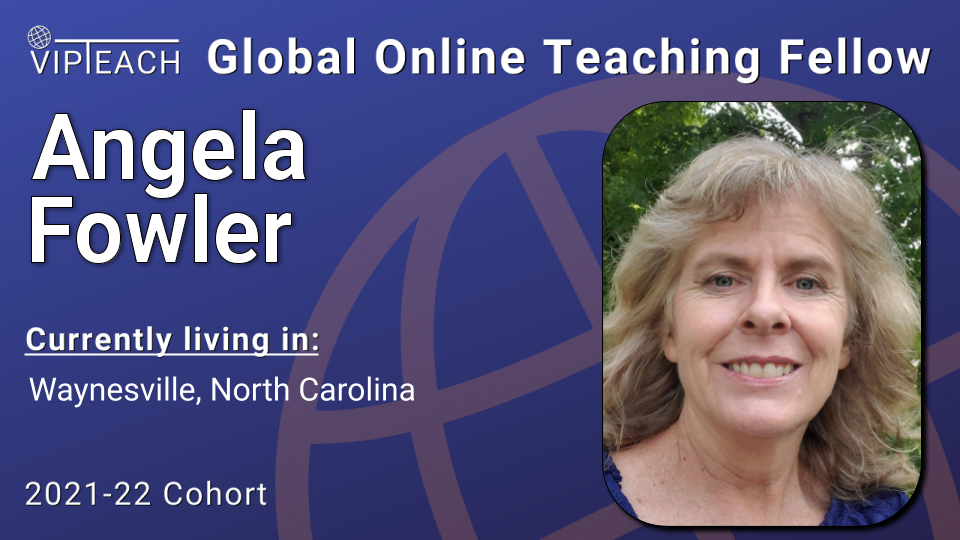 Angela Fowler graduated from Texas A&M with a degree in Animal Science. Immediately after graduation she began work as a seasonal park ranger. She worked several years as an interpretative ranger, focusing on environmental education. She owned, operated and taught at Mountain Dell Equestrian, a riding school and equine education center, for over twenty-five years. During this time she also acquired her North Carolina Early Education Certificate for Preschool and taught preschool for eight years. In 2017 Angela retired from the Equestrian business and began a new career as an online teacher. She is planning on working towards a Master of Art in Education with a focus on Special Needs beginning in January. Angela believes that we are all teachers and it is up to all of us to decide what our impact will be. She jokes that she has now held all the dream jobs of her childhood except princess. She resides in North Carolina where she enjoys hiking, camping, baking and of course her horses!
---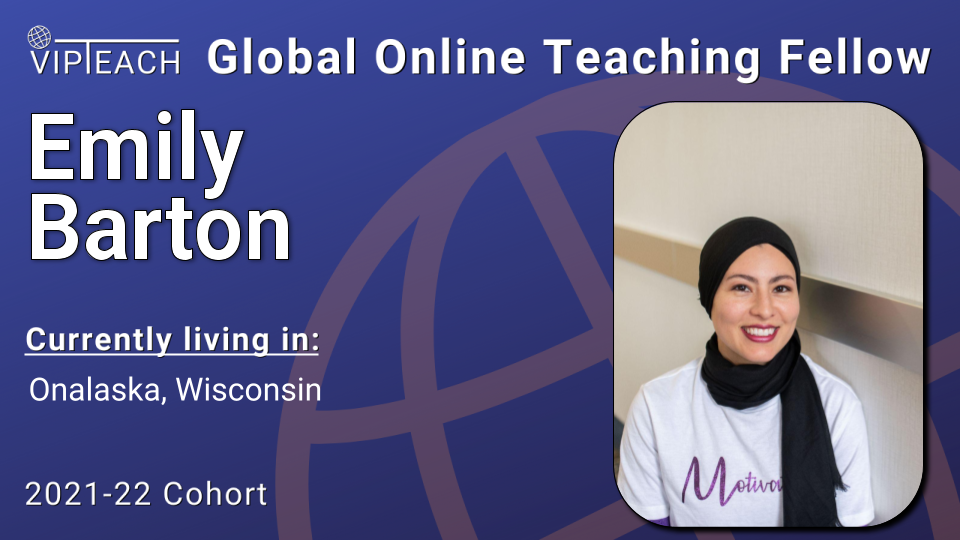 Emily Barton is a culture and language enthusiast, a poet, a spiritual global citizen, a mother and wife. She has a bachelors in Anthropology and a minor and Justice Studies. She is a returned peace corps volunteer who discovered her passion of teaching English in her 3 year service in Ethiopia. She hopes to develop her teaching abilities and skills to help benefit the communities that have supported her growth in learning. She would like to extend her gratitude by assisting and educating others of different backgrounds within and outside of America. Her passion is to educate about America, Panama, Ethiopia and other cultures. She believes being a teacher gives her the confidence to share her own knowledge about so many topics she loves by intermingling the communication of English. Language and culture are both keys to understanding the world and her students of various backgrounds. This growth will help her understand how to navigate and improve her ability to adapt in situations where education and learning obligations might be viewed differently from the way western society views it. She wants to share her ability to apply technology in an online and offline setting in order to benefit the learning development of all her students.
---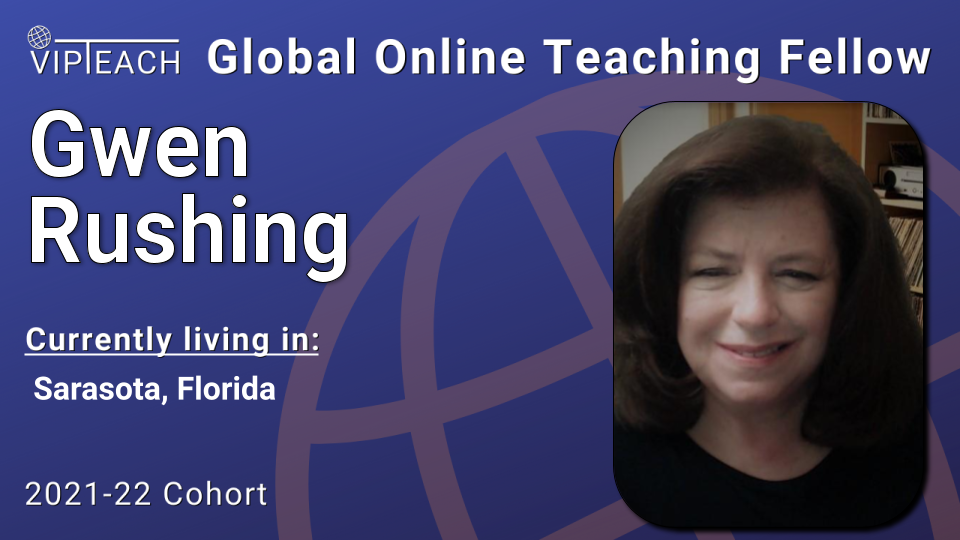 While educating young people is Gwen's passion, it is her second career and she is grateful I have had a variety of opportunities to positively affect students' potential after receiving her Masters in Education. The education field has challenged her creativity and expanded her skill set by engaging with young people from a brick and mortar setting to working with at-risk youth at the community level to providing a broad range of education and support via tutoring refugees in America. The skills and creativity currently required as a ViPKid tutor in order to effectively communicate in the online classroom, have called on all of her experience and are every bit as rewarding because of the one-on-one interaction and exchange of cultural information and ideas.
---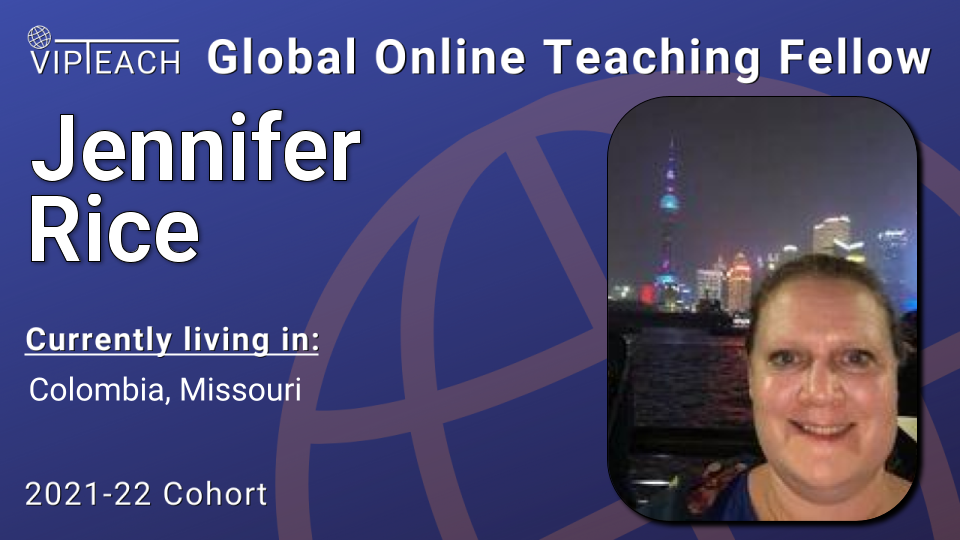 Jennifer Rice is a passionate and dedicated educator, researcher, and student of educating others. Jennifer has a B.S.Degree in Behavior Disorders and Intellectual Disabilities. She continued her education to include a Masters in Administration and a second Masters in Autism. Her passion for learning had led to her participation in curriculum committees in math, Language Arts, Social Studies, and Science. Although her degree is in special education, she has also taught in the regular education classroom. Jennifer's passion and dedication for educating all individuals led her to be nominated to the Superintendent's Advisory Council for her District of Columbia Public Schools, one of the largest in the state of Missouri. Jennifer took a break from brick and mortar schools to focus on the needs of her three boys. Two of the three have high functioning autism; the other struggles with ADHD. She did not stop learning, but instead took the opportunity to learn and grow in the field of advocacy in special education. In addition, she began teaching ELL online. Jennifer was honored to be one of the first one hundred teachers to teach online in rural classrooms in China. Because of her passion, she traveled to China's Xinjiang Province to meet her students and Chinese lead teacher. While there she was able to participate in a question and answer session with teachers and principals from rural China.
---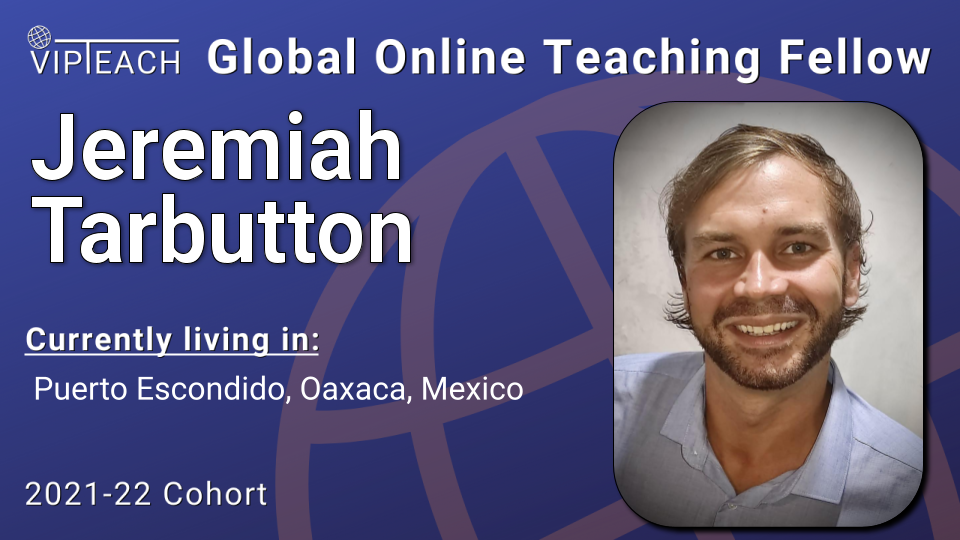 After completing his undergraduate business studies (University of Georgia Honors Program, B.B.A., Marketing, Certificate in Personal and Organizational Leadership), Jeremy joined the 2009 Teach For America Houston corps where he taught students from low-income communities how to contribute toward the efforts to end educational inequity in our nation. During this time, he completed his graduate studies in education (University of Houston, M. Ed., Teaching) and was awarded Houston Independent School District's KBR Secondary Science Teacher of the Year. Jeremy's experience in the classroom changed him at the core and led him to a career in education – his life's work. For seven years, he worked in predominantly Latino-Hispanic public middle schools as an 8th grade science teacher, 7th grade math teacher, department and grade-level chair, cross-country and track coach, Title 1 coordinator, recruitment coordinator, education policy fellow, and campus director. During this time, he grew to love the Spanish language and Latin American culture, which propelled him to undertake a backpacking adventure to Central and South America in 2016. Ever since then, he has taught English in Guatemala, Colombia, and Ecuador, studied Spanish and Portuguese, volunteered in cultural centers, worked on farms, assisted in the hospitality and tourism industries, and lived the digital nomad lifestyle as an online English as a Foreign Language teacher with VIPKid. Most recently, he was chosen as a 2020-2021 English Teaching Assistant Finalist with the Fulbright U.S. Student Program and will be heading to Brazil in March 2022 to teach at a Brazilian university.
---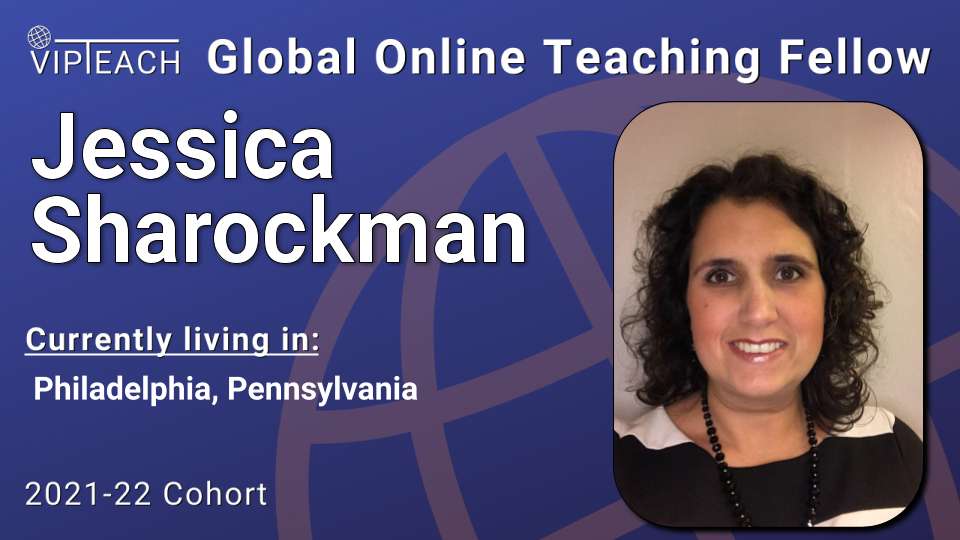 Jessica has a Bachelor of Arts degree in Media Studies, with an emphasis in Speech Communications and Political Science. Her experience as a volunteer in a preschool/early childhood education setting helped provide a foundation for teaching with VIPKid since 2017. She has served in many roles during her continued time with VIPKid, including Community Ambassador, Teacher Advisory Council (TAC) Community member, and most recently, Workshop Mentor, providing professional development training to her peers. Outside of teaching, Jessica works full-time in the business world, and volunteers with her local JDRF Stewardship and Outreach Committees. Jessica would like to continue her online educational experience through increased classroom technology usage and looks forward to teaching adult ESL students in the online global community.
---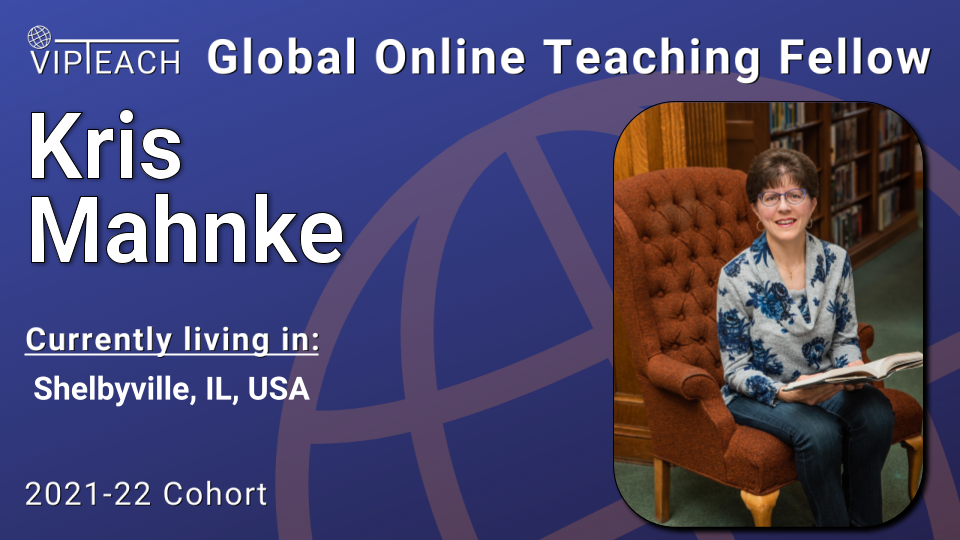 Kris Mahnke holds a bachelor's degree in English, as well as a TESL (Teaching of English as a Second Language) certificate from Greenville University in Greenville, Illinois. She loves kids, traveling, and teaching English. She has taught English online since August of 2012. In her free time, she likes to volunteer with children and youth in her local church, spend time with family, and, when she has the chance, travel abroad on mission trips. In fact, she has been on several mission trips, including a one-year stint in the Spanish Canary Islands where she had the opportunity to work with kids and preteens, as well as teach English to adults. All Kris' teaching experience and travels have impacted her worldview and helped her to see the value in others, especially children. Kris believes that to teach a child is to make a difference in their life and inspire them to pursue their dreams. There is a whole world of opportunities out there for them. They just need someone to help them open the door.
---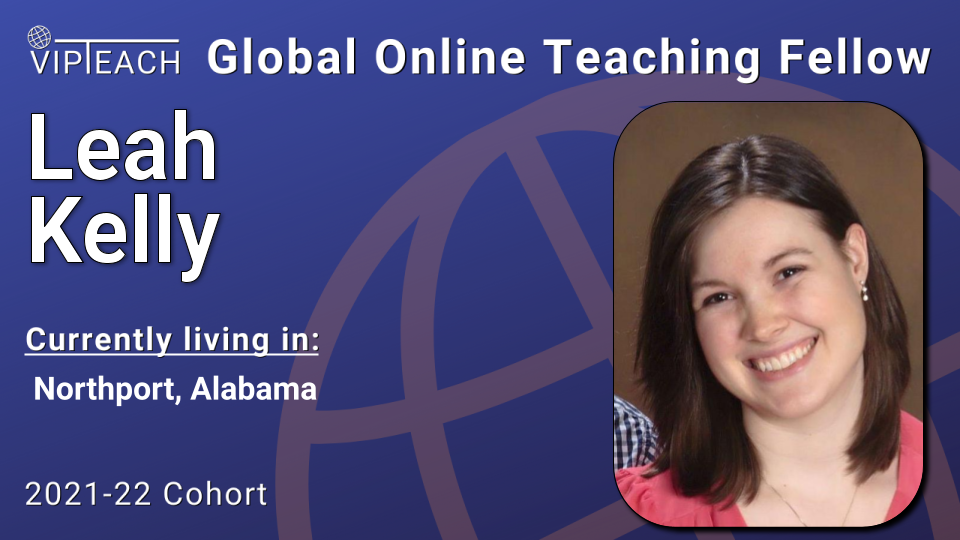 Leah Kelly is a homeschool mom of three, a VIPKID teacher, Christian, and lover of chunky chenille yarn projects! She holds a B.S. in Health and Wellness and a TESOL/TEFL certification. She has taught with VIPKID for the past six years and has developed a passion for teaching ESL. Through her church program, she offers free tutoring for people in my hometown, and she teaches free online ESL classes to people in Costa Rica and Nicaragua once a week. She is very excited to have the opportunity to grow as a teacher and to be able to volunteer to help those who are unable to have access to the English learning that they need. She is excited to go on this journey with everyone in the VIPTeach Community!
---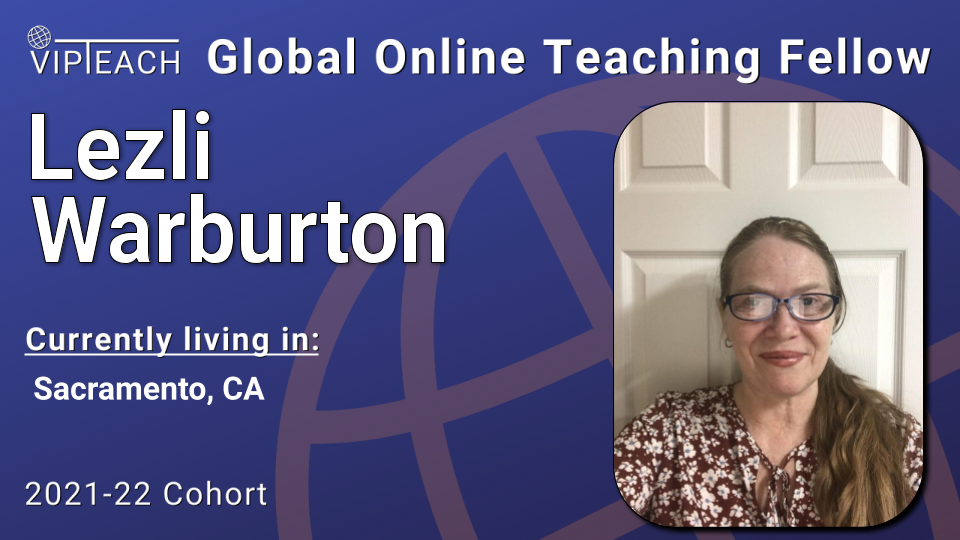 Lezli has had a long career in Education, experiencing various leadership and teaching roles. Her time as an educational professional spans over the past two decades where many changes in education have taken place. She is inspired by the learning process and seeing students achieve life-changing goals. Some key priorities in her work are to ensure equitable access to minority and students of color with the goal of liberation in under-resourced communities.
---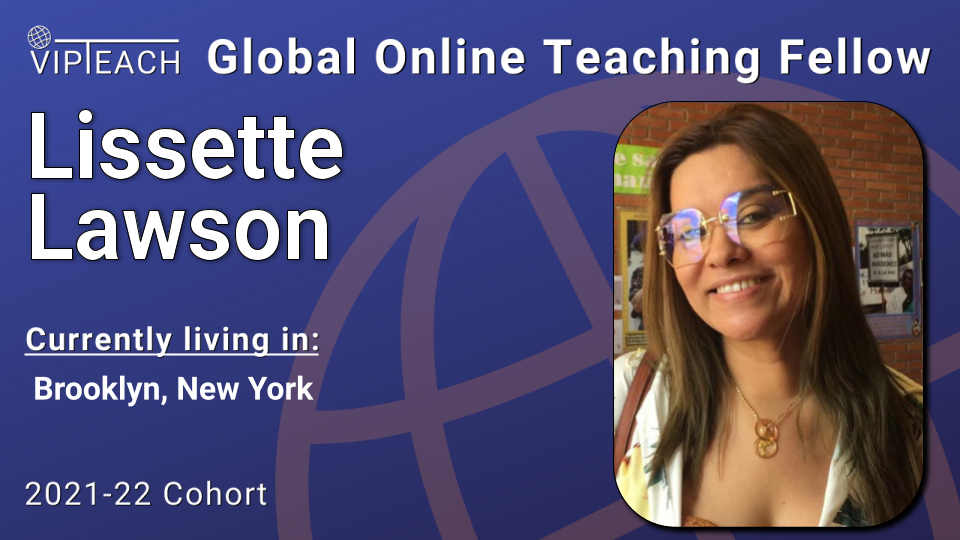 Lissette Lawson was born and raised in Brooklyn, New York and holds both Bachelor's and Master's degrees as well as TEFL and TESOL certificates. She has been teaching ESL/ENL on and off for over 20 years in various countries to students aged Pre-K through adult alongside work in film production. She is currently looking to obtain her NYS teaching certification. Lissette is innovative, creative, and a firm believer that one person can make a difference. Her love for arts and sports have opened many doors for her throughout the years [singing in music ministries and both playing and coaching up to first division basketball. Liz is dedicated to helping children, adolescents and adults find their hidden talents and skills to build up to career definition with purpose. She loves to travel and learn about other cultures, especially those linked to her roots. She is fully bilingual in English-Spanish and is learning Mandarin. Her life experiences have shown her that it's not what we have but what we know and share with others that truly matters. She has been with VIPKid for a year and aside from teaching is a Superhost [teacher connection/social networking] and is part of the Diversity Council. The fact of her being multiracial created a spark in her many years ago to help ensure that DEI was a part of whatever workplace she was in as well as everything that surrounded her and has taken courses in the matter. Liz believes you never stop learning and continues to grow professionally. Her son is 21 and her greatest gift in life is pursuing a career in 3D animation.
---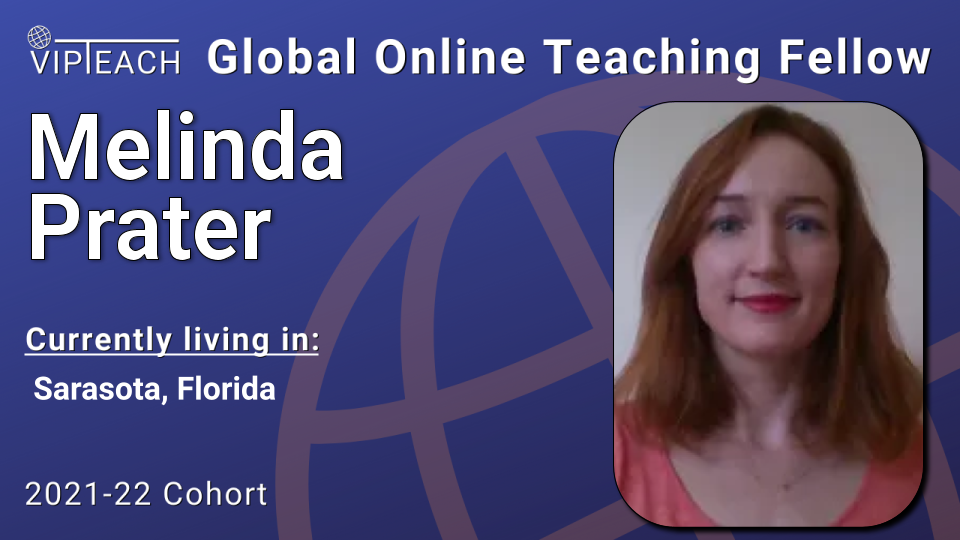 Melinda Prater has a Bachelor's degree in Music Education and a Master's in Music. She has 9 years experience teaching in K-8 schools in Boston and Chicago. She is currently teaching online with VIPKid and is certified to teach Music K-12 and Elementary Education PK-3 in the state of FL. Melinda is passionate about educational equity and has lived in 6 different places (5 states and 2 countries) over the past 6 years while watching her own children grow and learn. Melinda enjoys watching her oldest daughter develop a love for reading and hopes to spread that joy to other students as well. In her spare time she enjoys spending time with her kids, jogging and hanging out on the couch with the family dogs.
---
Mentors and Advisors from the Inaugural Cohort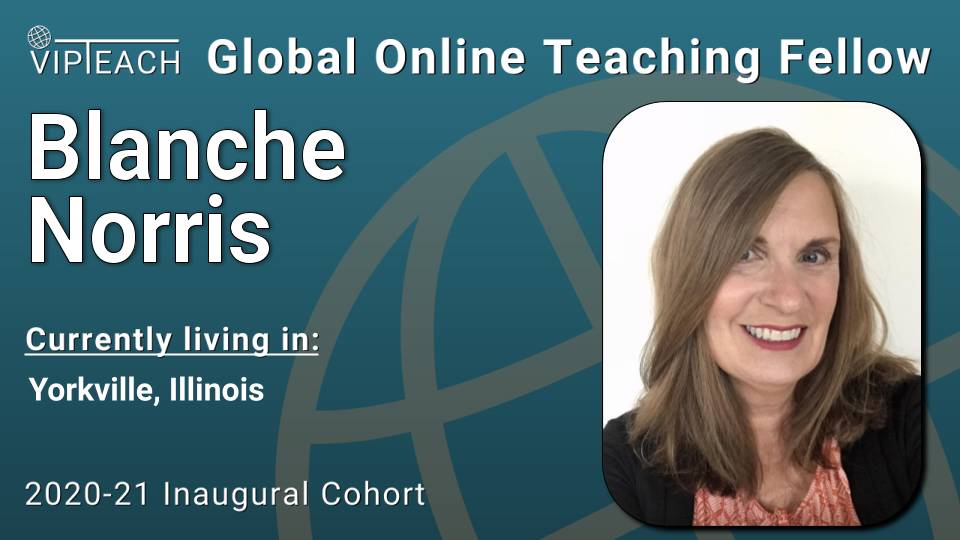 Blanche Norris is a Senior Learning & Development Consultant and Professional Facilitator with over 20 years of experience supporting a broad variety of clients in the Food Service, Retail, Manufacturing, Education and Communications fields. She has delivered training for large and small companies including: AT+T, Caterpillar, Tyndale House Publishing, FutureSource and the VIPKid Fast Pass program. She is an expert with soft skills, leadership, and business communications training. She has also facilitated numerous workshops on topics such as communication skills, conflict management, sales development, time and meeting management, customer service, employee coaching, change management and train-the-trainer sessions. Her specialization in soft skills and communications training is further supported by her AchieveGlobal Certification. She served as adjunct faculty with The College of DuPage, Glen Ellyn, IL and as a consultant for Waubonsee Community College, Aurora, IL. Education equity is a long term goal she shares with VIPTeach. She believes that teachers who value making concrete contributions and are willing to make sacrifices for the future of global education can positively impact this goal. Teaching for VIPKid brings her great joy. Blanche holds a M.Ed. in Global HRD from the University of Illinois.
---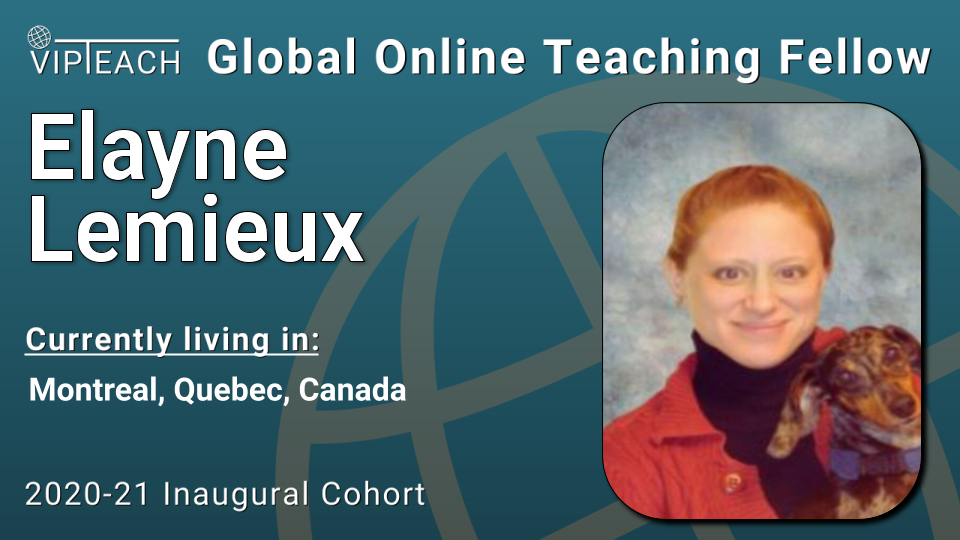 Elayne Lemieux joined the VIPKID team very early on (January 2015) and has been on a world wind trip (literally) since then. Teaching English has followed me since I started teaching and training adults in the business world in 2000; after having completed a B.Mus, B.Ed and several business certificates. I am a versatile educator, having instructed a wide variety of students from various backgrounds and facets of society. As a result, I am a compassionate teacher, who remains sensitive to students' needs by employing effective listening and providing individual and whole group support, offering positive encouragement and reinforcement to keep students focused and motivated. With VIPKID, Elayne has worked in a number of different roles: classroom teacher, student interview, trail class teacher, teacher mentor (formally a supervisor), and mock class mentor (formally a supervisor). She continues to be very actively involved in mentoring and supporting potential and existing teachers.
---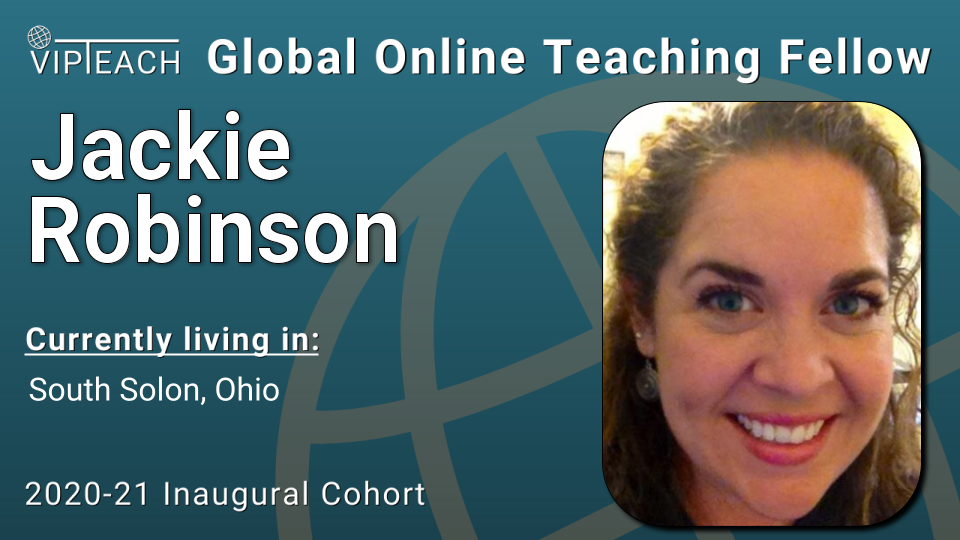 Jackie Robinson holds Bachelor's and Master's degrees, and is currently working on a PhD, along with teaching certifications in K-12 Music and K-12 School Counseling. Jackie has held music or counseling positions for 8 years in rural schools in America. She has also taught at the university level and worked in Student Affairs in higher education for 8 years. Jackie has been a 1:1 ESL teacher, taught over 1000 full classroom virtual classes with the Rural Education Project in China, done 1:1 and small group tutoring, and is currently an online substitute teacher for a company that provides certified teachers to schools around the country who cannot fill their teaching positions. Jackie has worked extensively with Habitat for Humanity by leading teams to six continents to build houses in rural areas, including leading college spring break trips to build around the US. In her spare time she likes being outdoors, going camping, cooking, and spending time with her family.
---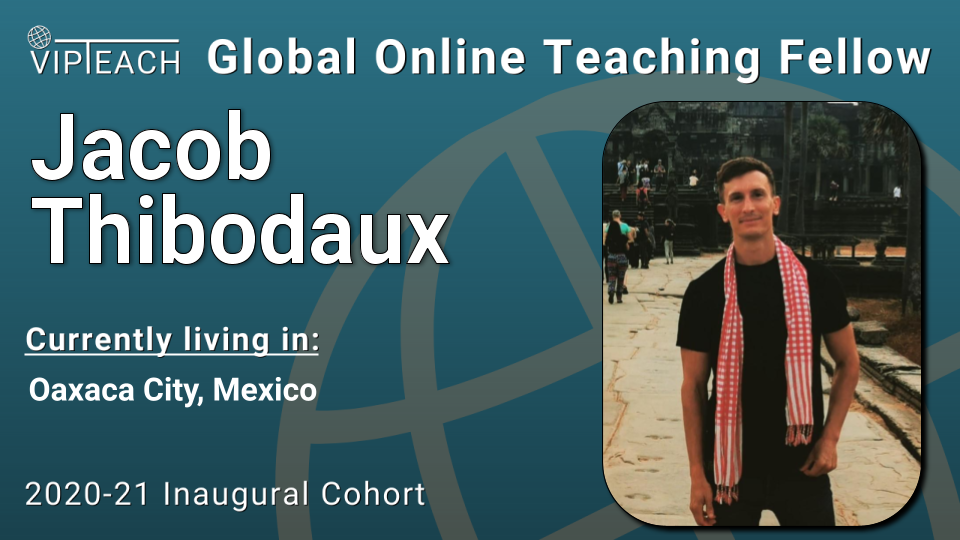 Jacob graduated with honors in finance at Louisiana State University. After working in finance for 2 years, I decided to change careers. His introduction to the teaching profession began after volunteering to teach high school students in rural Cambodia. Since then, he has worked in 3 countries, teaching children of different ages and levels. He also has experience tutoring math in America.
---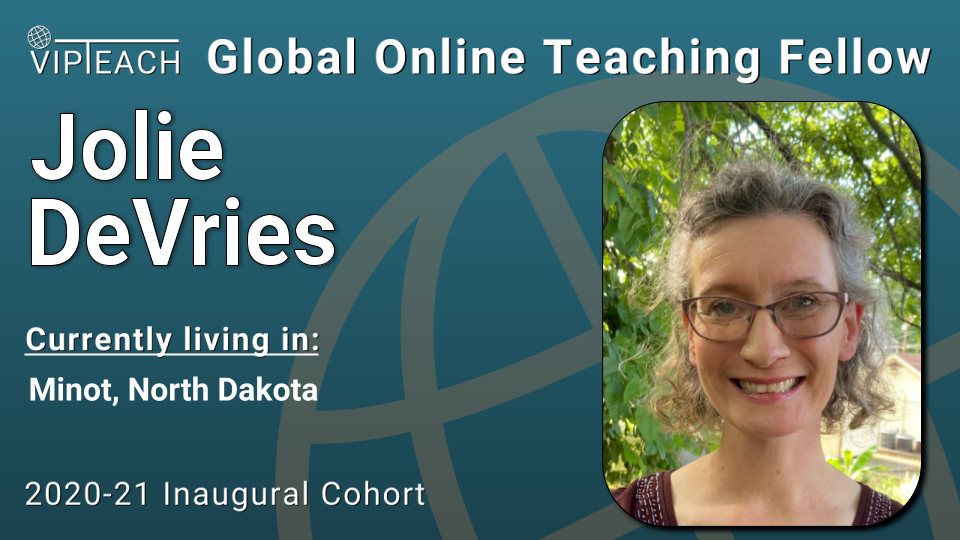 Jolie DeVries is an experienced teacher and mentor. In addition to being passionate about Professional learning communities, networks, and educational leadership, she taught online with VIPKid from November 2016 to January, 2021. Jolie has 17 years classroom experience in North American Public schools and has taught music and reading interventions in Indiana and North Dakota. She currently teaches orchestra to 4th-8th graders in North Dakota. Jolie holds a master's degree in Educational Leadership and her school administration license from the University of Southern Indiana. Jolie's specialty is curriculum design and instruction. Technology is her passion and she practices using it in both in person and online classrooms. She has been a technology leader and team leader for her schools and hopes to pass on her love of learning to future Fellows as the Project Manager for VIPTeach.
---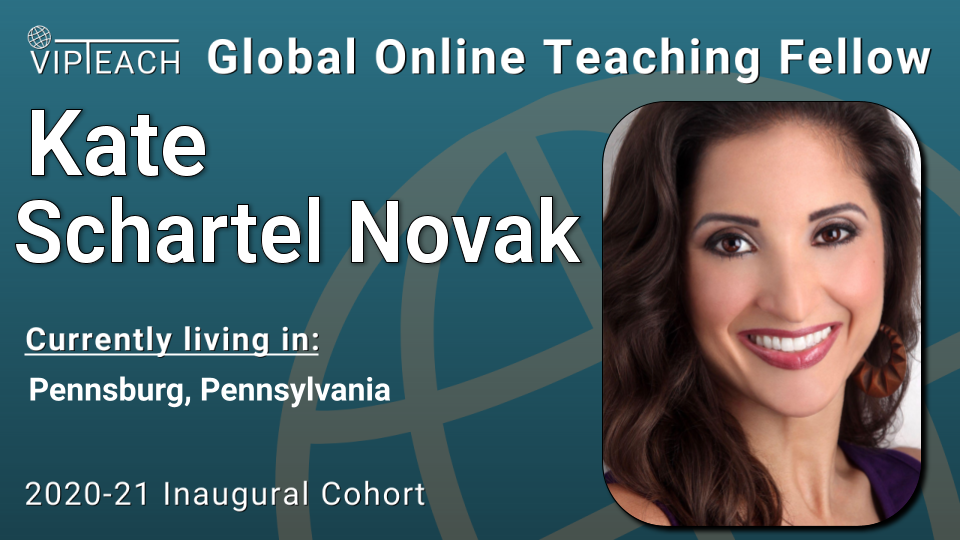 Kate Schartel Novak obtained both her B.A. in English and M.Ed. in Secondary Education from Lehigh University in Bethlehem, Pennsylvania. She taught for ten years in public schools before temporarily "retiring" to become Mrs. Pennsylvania America 2015 and have her daughter, Aria. She returned to education through teaching online for VIPKID and is now starting her eighth semester with the Rural Education Project, has hosted many meetups, coached for Philadelphia Fast Pass, and volunteered for Journey D.C. As a part of the VIPTeach fellowship, she is pleased to combine her online teaching experience with brick and mortar classroom experience in both urban and suburban school districts. Outside of teaching, Kate is a fitness instructor, a home-based travel advisor, and a tenacious proponent for the causes that move her. She is a three-time Mrs. Pennsylvania titleholder in the Mrs. America, Mrs. United States, and Mrs. International pageant systems and currently holds the titles of Mrs. New England and Ms. Royal America, using her titles to further the impact and reach of philanthropic endeavors. Kate volunteers as a Wish Granter for Make-A-Wish, served on the Young Alumni Council and is an Alumni Volunteer for Admission for Lehigh University, and is an eNews Editor at her church. Above all, she is a devoted wife to Ray, mother to 5-year old Aria, and stepmother to three girls.
---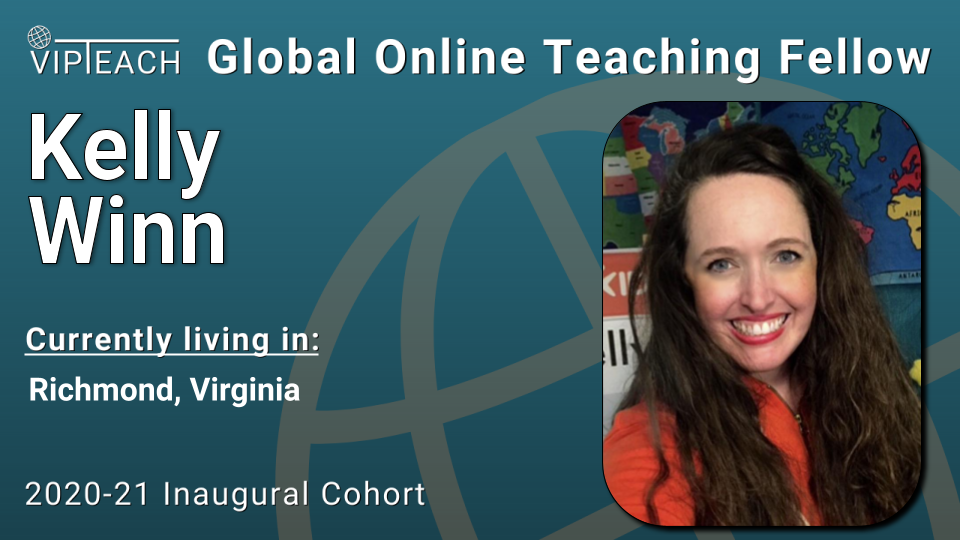 Kelly Winn lives in Virginia, USA and comes from a family of educators. She has spent 18 years in the classroom teaching Elementary and Middle School Art and Pre Kindergarten. She holds a Masters degree in Early Childhood Education and many Masters level credits in the Fine Arts. She enjoys anything crafty and creative and loves to paint and throw pots. Kelly has years of experience working with second language learners in her community and has been teaching English on-line for the past 4.5 years. It is through her work teaching English digitally that Kelly realized she has a passion for reaching and engaging with learners around the world.
---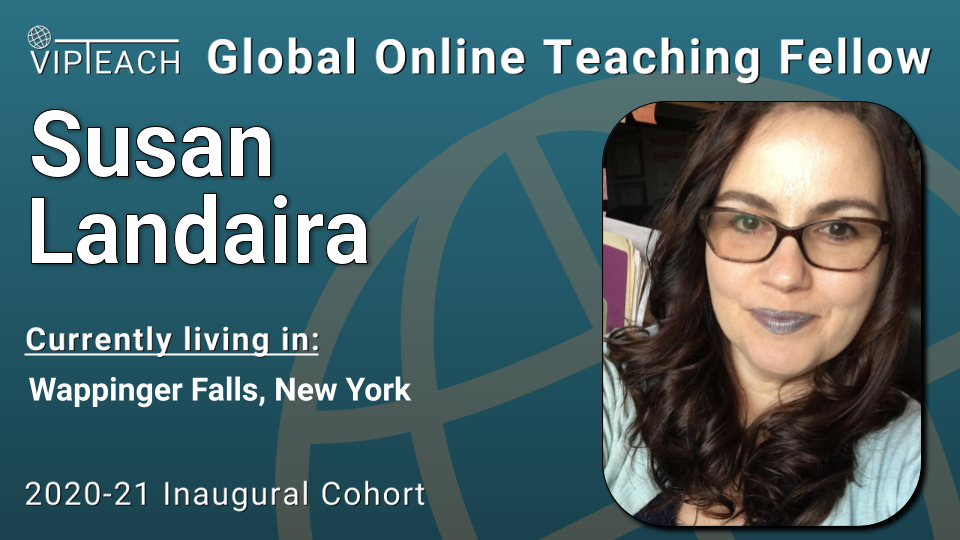 Susan M. Landaira is a Special Education Teacher. She works with students with varying disabilities to help them achieve their IEP goals and practice job/life skills. Susan considers education a right and believes that all students should be given an equal educational opportunity. Susan has dedicated many years to underserved students. Through her work with the Vello program, she volunteers to assist struggling readers who may get lost in the world of public education. Susan has volunteered to tutor Math at her local elementary school and has taught for her Church's Religious Education program for the past 15 years. Susan has taught for VIPKid for almost three years. As of today, Susan has taught 4,827 classes. The Rural Education Project through VIPKid is a program that Susan holds near and dear to her heart. By providing students across the globe with an English education, Susan believes she is providing them with access to limitless possibilities. She is inspired by the idea of a global classroom and VIPTeach's mission to empower students. Susan holds a BA in Philosophy and Cultural Education and a MA in Education. She enjoys spending time with her husband, three grown children and four rescue pets.
---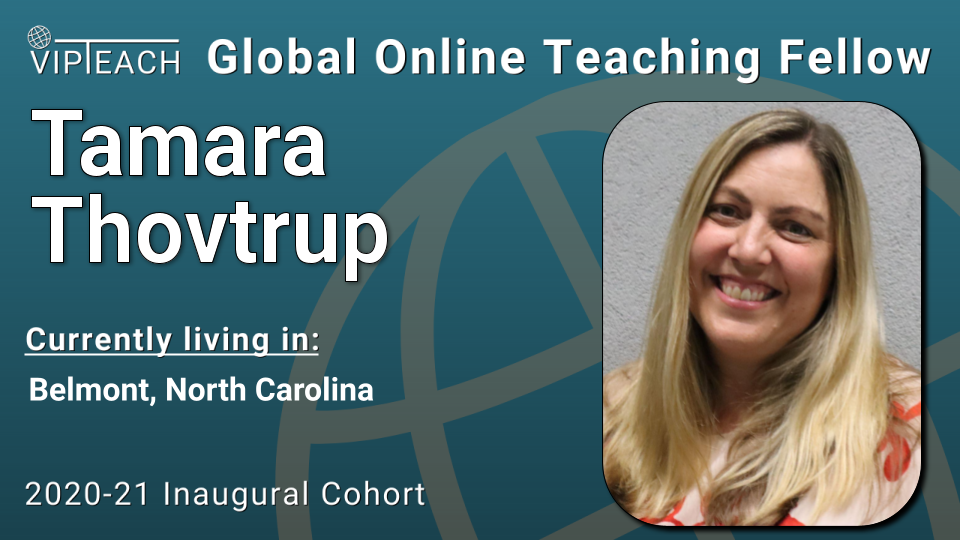 Tamara Thovtrup is an online teacher for 4 different companies and loves helping people learn, grow, and achieve greatness. She has spent the majority of her career in the service industry, gaining experiences in areas such as teaching underprivileged children, substitute teaching, teaching online, coaching applicants, and being a flight attendant. While education is her primary job function by day, Tamara also enjoys traveling and jet skiing.
---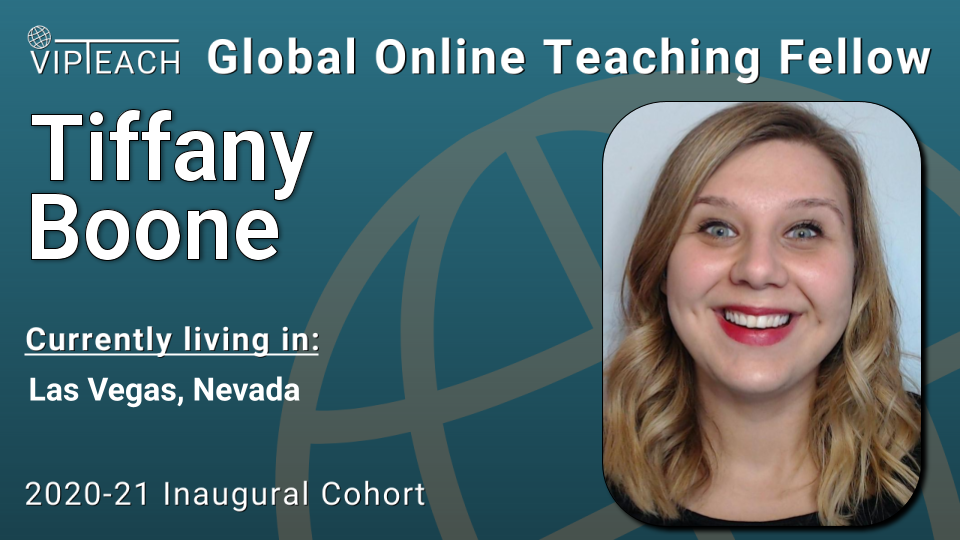 Prior to joining VIPTeach, Tiffany developed her skills at VIPKid, where she quickly established herself as a devoted educator of English as a foreign language. Tiffany has been educating children in the United States, Germany, and Britain for over six years. A graduate from the University of Maryland Global Campus, Tiffany holds a degree in Psychology.